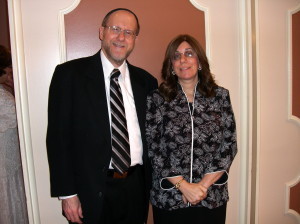 I remember the first time I spoke to Naftali on the phone before we met each other back in August 1998.  We already felt interested in getting together to meet in person because of our valuable 45 minute conversation.
We actually were introduced and matched together by Phyllis Blackman at Hineni in Manhattan, New York.  She called me up and told me briefly about Naftali, and I agreed to speak to him on the phone first.
When we spoke to each other a couple of days later, it was already a good sign to meet him.  So we met at a local restaurant in Queens NY called STARDUST and spoke to each other for quite some time (actually 4 hours).  When we left the restaurant at 10pm, we decided to go shopping for an hour or so.  Our first date lasted 6 hours, and it was the most amazing time we had the first time meeting each other.
We went on our second date, a week and half later to the movies. Before we actually went to the theater, Naftali asked me to help him do a mitzvah by visiting an elderly woman at a nursing home because she was very ill, and her family did not really care about her.  So we went there together, and in amazement I saw how much he offered to help her even though she was only a next door neighbor on his block.  I realized at that moment how much he cared for people and imagined myself being taken care of by him too at some point.  It was the most awesome experience for me to see a special person like Naftali Schwartz really care for someone that needed his help like that. I realized that I wanted so much to marry someone like him.  This was the first initial event in my life that really made me think about the kind of person that would be a good match in marriage.  I felt so amazed at his morals and values that he grew up with in his family.  I was totally impressed.
After that exciting experience, we did finally go to the movies.  I was really impressed.  We had another wonderful evening.
The next date we got together was during my birthday.  Naftali asked me to stay at his friend's house for shabbos so we can all celebrate my birthday together.  I finished up my 9am – 5pm job in Manhattan and rushed back to Queens so he could pick me up at the train station, then we went to his friend's house to get ready for shabbos.  His friends were very happy to have me stay with them.  Naftali went back to his apartment to get ready for shabbos, then that Friday evening we were together with his friends.  Naftali and I took a walk that evening after the shabbos meal, then he and I started to talk about planning our wedding in 3 1/2 months.  He felt the same way I did all that time.  Of course, I was so excited and nervous at the same time.
Afterwards, we both went back to his friend's house so he could say goodbye to everyone. On shabbos, it was actually my birthday, and Naftali brought me a surprise birthday cake.  I was so overwhelmed with joy!  I had such a wonderful birthday party with him and some other friends there too.  This was the first of our amazing first moments together while just dating.
We have so many beautiful memories together ever since that time.  Now we are married 15 1/2 years and have overcome so many difficult, and yet wonderful experiences together.  We keep working on our relationship each day so that we can always keep our compassion, love, and family together no matter what occurs in our life.  Yes, we have fantastic vacations, wonderful family times, hard times, but we are totally happy in our marriage and very marriage-minded.  We love each other as well as our family.
There are very happy times, some sad times, but strong times where we are being tested by the Almighty!
MARRIAGE is about love and strength as well as happiness!